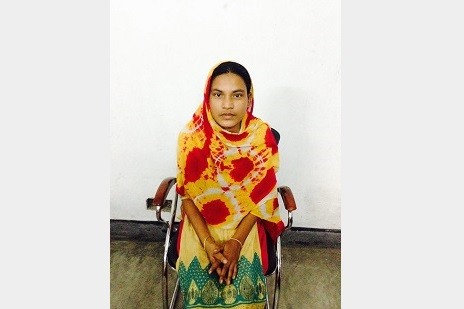 Q1.Where do you live?
Aukpara Adarsha Gram, Ashulia, Savar, Dhaka, Bangladesh
Q2.How old are you?
26 years
Q3.How old is/are your kid(s)?
My son is 7 years old and my daughter is 3 years old.
Q4.Please tell us about your family.
My name is Laizu working as a sewing helper in a leather factory.
I am married for about 8 years and my husband is a day labor.
My son doing his grade-II and my daughter is just three years old.
My parents live with me and my father is a kidney patient for about two years.
Currently he has no income. Therefore, they depend on my income.
Q5.Are you currently working?
I am working as a sewing helper in an Export Oriented leather factory( BLJ Bangladesh Corporation Ltd.)
Q6.What is your job?
I am working as sewing helper in a leather factory.
My main job responsibilities is to sewing various type of finsihed leather goods.
Q7.At what times do you work?
I use to work from 8.00am-5.15pm daily, except Friday .
Q8.Does your partner help with child care?
Yes, sometimes if needed.
Q9.How does your partner help with child care?
Usually my mother take care of my children when I am at work.
However, quite often my husband helps me in this regard such as take my son to school or bathing or in other ways.
Q10.Who takes care of your children while you are working?
My mother use to take care of my kids while I am at work
Q11.How do you relax after taking care of the children?
Basically, I love to spend time with my family.
Though soemtimes I watch T.V and gossip with neighbour.
Q12.Do your children take any extra lessons after school? Ex) piano lesson, English lesson, etc)
It is really difficult for me to engage my kids this sort of extra curricular activities as it requires extra money and I do not afford to do so.
However, my son loves to recite poem. He has some natural talent in this regard.
Q13.What kind of life skills do you think are necesaary for kids to have?
Simply, I want to see my kids who is honest and respect elders.
Q14.Do you do anything to develop those skills?
My father is a freedom fighter. Despite of his proverty he lives a honest life.
I am just trying to insert this value into my kids.
Q15.What makes you happy?
To spend time with my kids and give time to my parents
Q16.In ten years, what do you think will be making you happy?
If I can provide higher education to my kids that would be a dream come true for me.
Q17.When do you think house work and child care is hard ?
Usually, I love to spend time with my family and at the same time to do house work. Threfore, I do not find any difficulties to do so.
Q18.Do you have any trouble with your work? If so, please tell us about the details.
Right now I am happy at BLJ.
Q19.Do you have any trouble with taking care of your children? If so, please tell us about the details.
Not at all. As in absence of me my mother does take care of my kids.
Q20.What is it that you value in child-rearing?
Honesty, education and respect elders.
Q21.What activities do you want to do with your children? Ex) traveling, playing with them, etc)
Simply, I do love to sepnd time with my kids.
Q22.Recently, what has made you the happiest?
Recently my son paased his class final exam. Thus he promoted to class II.
It was a great moment for me
Q23.What do you want to have the most now? (Environmentally, emotionally,etc. all included)
With in few days I will start building my own home as I got a piece of land from my mother.