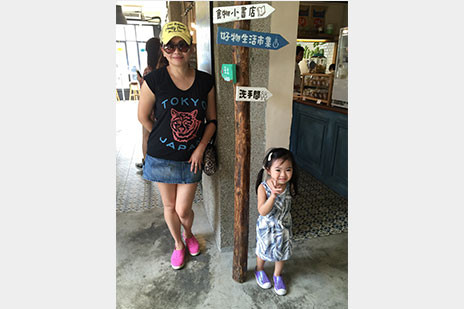 Q1.Where do you live?
Kaohsiung, Taiwan
Q2.How old are you?
45years old.
Q3.How old is/are your kid(s)?
3 years old.
Q4.Who are the members of your family?
My husband, a daughter and me.
Q5.Are you currently working?
-
Q6.What is your job?
-
Q7.What are your working hours like?
-
Q8.Does your partner help with child care?
Yes
Q9.How does your partner help with child care?
My husband's working hours are flexible, so both of us can take care of our daughter.
For example, my husband play with her, while I'm cooking or going out for shopping.
However, I take most of her care because she often stay with me.
Q10.Who takes care of your children while you are at work?
-
Q11.How do you relax after taking care of the children?
Now I cannot have relax time.
I can relax by goint out for eating with my friends and sisters.
Q12.Do your children take any extra lessons after school?
( e.g. piano lessons, English lessons etc)
She goes to the creative art class every sundays.
She also goes to eurhythmics class.
Q13.What kind of life skills do you think are necesaary for kids to have?
To be able to live by herself.
Have an inquiring mind.
Have a communication skill in international situations.
Q14.Do you do anything to develop those skills?
I stay close to her and try to find her personarity and looking for a chance to prove her ability.
Q15.What makes you happy?
When I play with my family.
Q16.In ten years, what do you think will be making you happy?
Simple and natural world.
Q17.What makes you think "Working / House working and taking care of a child is hard!" ?
When the mind and body of unhealthy.
Q18.Do you have any trouble with your work? If so, please tell us about the details.
-
Q19.Do you have any trouble with taking care of your children?
If so,please tell us about the details.
I have a feeling of impatience about my daughter's education.
I always think the way I think is right or not in child raising process.
I worry about how she can deal with troubles outside home.
Q20.What is it that you value in child-rearing?
I think hug is important.
Q21.What activities do you want to do with your children?
(e.g. traveling, playing with them etc)
I want to make my daughter and my rooms.
Q22.Recently, what has made you the happiest?
When my daughter says "mom, you are so beautiful"
Q23.What do you want the most right now?
(including material things, spiritual wishes etc)
I want to have good communication with my husband.
I want to separate my work and family life.
Thank you, Eileen!
Be sure to join moms interviewees.
Your voice will be delivered to moms all over the world.
Click here for interview form