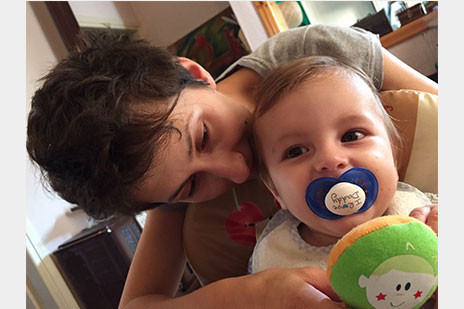 Q1.Where do you live?
Xanthi, Greece
Q2.How old are you?
30 years old.
Q3.How old is/are your kid(s)?
0 (9 months old)
Q4.Please tell us about your family.
Father, Mother, Son
Q5.Are you currently working?
Yes.
Q6.What is your job?
Owner of a shop
Q7.What are your working hours like?
9:00-13:00、17:00-20:00
Q8.Does your partner help with child care?
Yes.
Q9.How does your partner help with child care?
-He takes care of the child when I'm working.
-He helps with house chores and with the garden.
-He supports me mentally.
Q10.Who takes care of your children while you are at work?
My partner.
Q11.How do you relax after taking care of the children?
I have no time to relax other than when sleeping.
Q12.Do your children take any extra lessons after school?
( e.g. piano lessons, English lessons etc)
No.
Q13.What kind of life skills do you think are necesaary for kids to have?
-I want him to be healthy.
-I want him to be able to care for others.
Q14.Do you do anything to develop those skills?
He is still too small to do anything.
Q15.What makes you happy?
-When my son laughs.
-When he looks happy after enough sleep.
-When he laughs happily when he learns something new.
Q16.In ten years, what do you think will be making you happy?
A world where we can have hope.
Q17.What makes you think "Working and taking care of a child is hard!" ?
-When I am looking after my son alone, and I can't leave him even when I have something else I have to do.
- When I need to think about work or make decisions, but cannot concentrate on it.
Q18.Do you have any trouble with your work? If so, please tell us about the details.
When my husband's childcare leave ends, there will be no one to look after the child during daytime, and I'm not sure if I could hire someone, like a babysitter.
Q19.Do you have any trouble with taking care of your children? If so, please tell us about the details.
Always. Even when I learn something through reading books about childcare, I always wonder whether it is really right. Has he eaten enough? Has he learned something from the toy he played with? …and so on.
Q20.What is it that you value in child-rearing?
Food (what he eats) and enough sleep.
Q21.What activities do you want to do with your children?
(e.g. traveling, playing with them etc)
I want to travel with him from a young age.
Q22.Recently, what has made you the happiest?
When I woke up during the night, I found my son awake, sitting happily and smiling, at the corner of his crib. I was happy to know that he had had enough sleep.
Q23.Is there anything you wish you should have done?
I had a good pregnancy and delivery experience, with no difficulties. I wish all the women in the world could be like that.