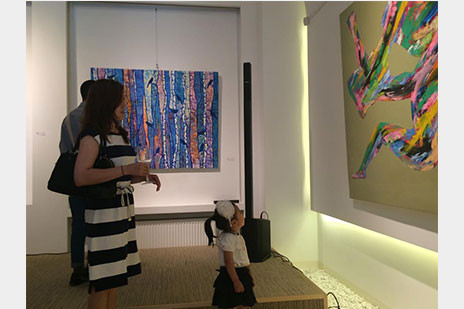 Q1.Where do you live?
Mongolian
Q2.How old are you?
31 years old.
Q3.How old is/are your kid(s)?
3 years old.
Q4.Who are the members of your family?
My husband, my daughter and me.
Q5.Are you currently working?
If you are not your job, after the "No" Q9. Please proceed to
Yes, I'm working.
Q6.What is your job?
I teach at a university.
Q7.What are your working hours like?
I work from 8:00 AM to 6:00PM. Not same everyday.
Q8.Does your partner help with child care?
Yes, he does.
Q9.How does your partner help with child care?
He take care of daughter when he does not have work and I have to go my work.
Q10.Who takes care of your children while you are at work?
My husband's parents and my parents take care of my daughter.
Q11.How do you relax after taking care of the children?
On weekend, my husband takes her to outside, so I do whatever I want to do.
Q12.Do your children take any extra lessons after school?
( e.g. piano lessons, English lessons etc)
Nothing special.
Q13.What kind of life skills do you think are necesaary for kids to have?
I think the ability to think of herself is necessary.
Q14.Do you do anything to develop those skills?
I do not rely on toys and let my daughter to think and explain what she want to do. I also let her to draw whaterver she want to draw during our play time.
Q15.What makes you happy?
I feel happy when my daughter is happy and she stays healthy. I also feel happy when I did well at my work.
Q16.In ten years, what do you think will be making you happy?
I want to live in a more safe and secure environment.
Q17.What makes you think "Working / House working and taking care of a child is hard!" ?
I put my work first and did not have time to be with my daughter.
Q18.Do you have any trouble with your work? If so, please tell us about the details.
Yes,I have.I always have to cultivate my expertise, otherwise I'll be get behind from my co-worker.
Q19.Do you have any trouble with taking care of your children?
If so,please tell us about the details.
I cannot leave my daughtera at a nursary school.
Q20.What is it that you value in child-rearing?
Under all circumstances, be honest to my daughter.
Q21.What activities do you want to do with your children?
(e.g. traveling, playing with them etc)
I want to take piano and dance lesson with her.
Q22.Recently, what has made you the happiest?
When my daughter talks me a lot.
Q23.What do you want the most right now?
(including material things, spiritual wishes etc)
I want to have a good kindergarden near my home.
Thank you, Tsetseg!
Be sure to join moms interviewees.
Your voice will be delivered to moms all over the world.
Click here for interview form