Mozambican children are really cute. They have big eyes, long eyelashes and they always have big smiles on their faces. They all like to play, just like kids in Japan.
There are many ways of playing, but I would like to describe a couple of playthings they enjoy, those I was especially impressed with.
One of the toys that I found amazing was a car made of scrap materials. The frame of the structure is made of wire skillfully twisted and bent into the right shape. Tires are made from cans. Children play with it by pulling it with a string. How smoothly it runs depends on the skill of the maker, but I was quite impressed to find out that they got the idea to use scraps to make something useful.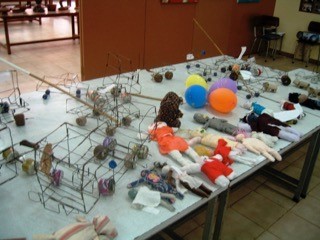 Another "toy" I saw kids playing with was something I used to play with myself when I was a child. They use a rim of a wheel from a scrap bicycle and play with it by rolling it with a stick. I found out that it was also used in the same way in Japan in the old days, before World War II.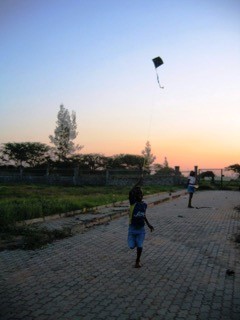 Since I live in the city center, I don't see these kids often, but I encounter these scenes when I go to the suburbs and the countryside. I also see kids flying handmade kites made from garbage bags and wooden sticks. I am surprised by the fact that, despite the distance and different culture between Japan and Mozambique, I find so many things we have in common. There are still more things that are similar, such as drawing squares on the pavement with a chalk and hopping in and out, drawing lines on a board like a chess board and using the caps of bottles to play "Othello", blowing a piece of grass to make a whistle, etc.
Maybe I notice them because these things are all so familiar to me from my childhood memories, but all the same, it is always a big surprise to me whenever I see kids playing with these kinds of toys. The fact that less and less of these scenes can be seen in the cities is an unfortunate similarity between Japan and Mozambique.
By the way, can you imagine how they make these playthings? They don't always have sharp scissors, glues and colorful papers and pencils. Of course, if you go to a big supermarket in the city, you will find them all, but it is not common for the kids here to have everything that we imagine is necessary for the handcraft. So, they gather all their creativity and imagination and find materials they can use around them.
According to the annual report by UNDP (United Nations Development Programme), which ranks countries by average life span, level of education and income, etc. (Human Development Report), about 60 percent of the population in Mozambique live with less than 1 dollar a day (2014).
What are the prices of groceries here? A can of Coca Cola (350ml) is 25Mtn ($0.55), a loaf of bread is 8Mtn ($0.17). The situation being what it is, it's easy to understand that they don't have much money to spend on children's toys.
Living in a place like this, I begin to realize that, in a sense, taking too many things for granted is rather unfortunate. In such an environment, we forget to think of what we really want, how they are made, and just reach out for the object and be satisfied. This would result in children with lack of perseverance and staying power.
Nowadays, we all tend to think of what we should give our child, give everything possible for the sake of the child's own benefit, but I realize that what we are actually trying to give is not for the child but for ourselves, fulfilling the desire of wanting to give something, just for our self-satisfaction.
totuku@japan