The second article about Terakoya! This time, let me introduce the textbooks of Terakoya being named Oraimono. The durable textbooks which are made of "Washi" that Japan boasts to the world. They would last 100 years if they are handled carefully!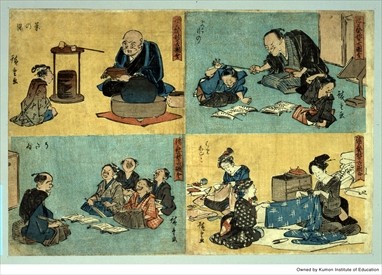 「諸芸稽古図会(よみもの他)」歌川広重/画 公文教育研究会蔵
Origin of the name Oraimono
The general name for the classical textbooks which were used in Terakoya from late Hein to early Meiji period were called "Oraimono."
"Orai" means go and come, and "Oraimono" were collections of model sentences for letter-writing that were used as elementary textbooks.
7000 kind of textbooks!!!
Textbooks in those days tell the enthusiasm of masters for necessity of education. There are over 7000 kind of existing real textbooks which were made during Edo period. Approximately average in 250 years, 30 kind of textbooks were prepared annually.
Variety of original textbooks were created such as teaching technical terminology for merchants, carpenters, farmers and textbooks to teach unique geography, products, lifestyle of local area and so on.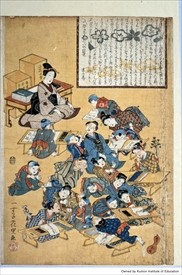 「文学ばんだいの宝」 一寸子花里/画 公文教育研究会蔵
Now let's take a closer look at different kinds of Oraimono
Koorai
"Meigo Orai" which is believed to have been written by Fujiwara Akihira was published in Edo period. This is said to be the first oraimono issued by a publisher in Kyoto in 1642 and volumes to be continued and expanded during
the latter part of Edo period. And therefore the oraimono which were developed and published before Edo period are collectively called Koorai (literally, old oraimono). For example, "Teikin Orai", "Kanshojo Orai" and " Shakushi Orai."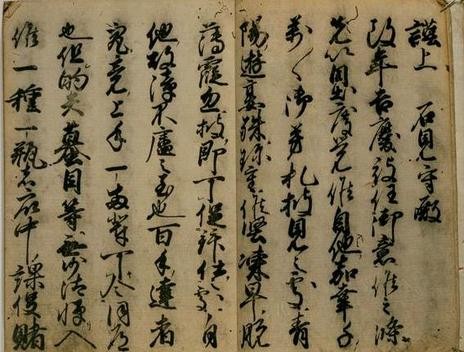 Teikin Orai 東京国立博物館蔵
Moral education
"Teachings on words of truth", "Teaching for children", "Tenarai Shinshikimoku" were the textbooks used to teach children morality and discipline.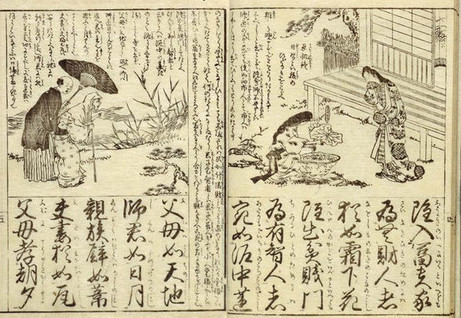 「実語教絵抄」 滝沢馬琴/画 東京国立博物館蔵
Social studies
Not only teaching knowledge necessary for social life but also hobby and culture. And also legal form "Keianofuregaki" was used as a textbook.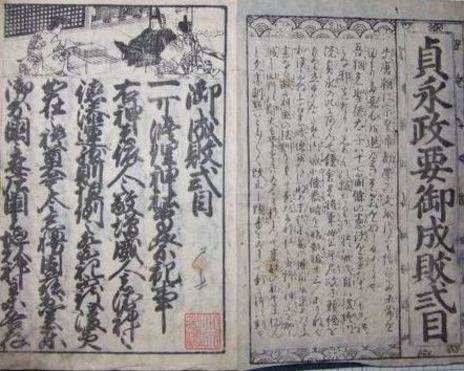 「御成敗式目」
Vocabulary course
Collection of vocabularies, poetry forms and short sentences which were frequently used in letters
Personal letter
Collection of model sentences, frequently used vocabularies and short verses in letters
Geography course
Collection of the name of places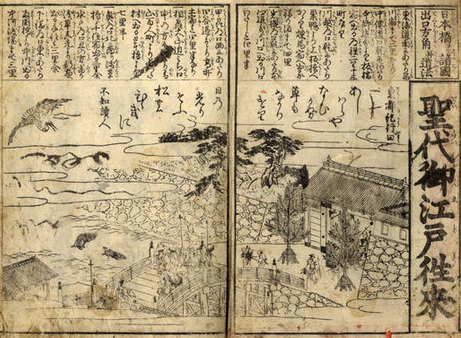 「江戸往来」
History course
To study historical figures and actual events such as the revenge of the Soga bothers, the Genpei war, the Taiheiki, the Siege of Osaka, and the Shimabara Rebellion.
Business(commercial) course
"Shobai Orai" was one of the most popular and wide-spreaded oraimono in Edo period. It is the collection of words,
currency and name of products necessary for business activities, and also must-do's for businessman life. There were oraimono for professionals such as "Nogyo orai", "Inaka Orai"and "Hyakusho Orai" for agriculture, "Bansho Sakuji Bunsho" for manufacturing, "Fune no Yuraiki" for shipmaster. Also, "Shoshina Sunpo Orai"in which preferred sizes of lumber, stone, paper and masu(a measure) were written.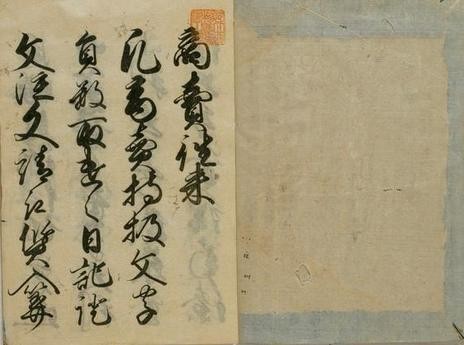 Shobai Orai 東京国立博物館蔵
Science and mathematics (science) course
There weren't many oraimono about natural science, on the other hand many books about Wasan (Japanese mathematics) like "Jinkoki" were published. In addition, oraimono about physiology like "Shintai Orai" which includes the name of each part of "the whole body" such as upper part of body, hands, feet, and also the name of secretion, bodily wastes, the internal organs and the bowels were published.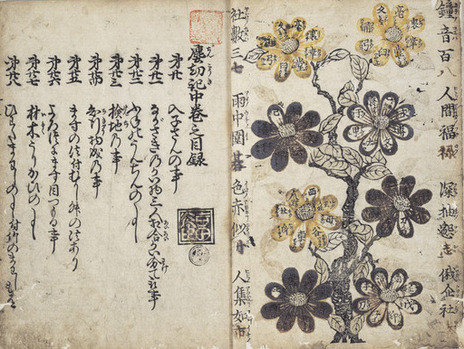 「塵劫記」 東京国立博物館蔵
Bookbinding course
Several oraimono to be bound together in one book.
Leaning for women
Oraimono for women called Jyokunsho such as "Onna (women) Imagawa", "Women's teachings on words of truth" and well-known book "Onna-daigaku (the greater learning for women)" were published continuously after Meiji period. In addition to Onna-daigaku, there were supplemental volumes that included illustrated vocational books for women, elements of childbirth, parenting, childbearing and various forms were published and referred as culture and encyclopedic books.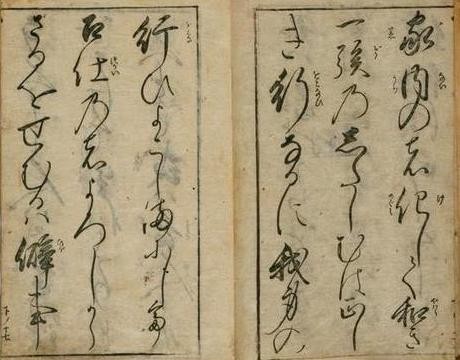 「女今川」 東京国立博物館蔵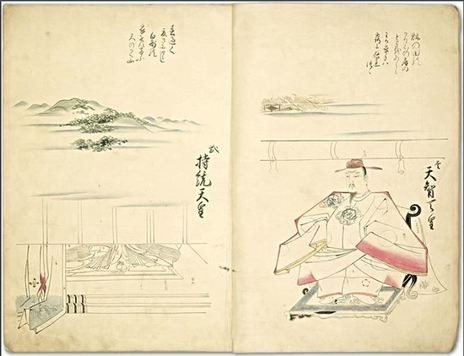 「百人一首画帖」狩野探幽/模写画 跡見学園女子大学図書館蔵
Washi are incredibly strong and they would last 100 years if they are handled carefully. Textbooks were made with washi and masters had lent them to pupils.
Also, paper were repeatedly used for practicing calligraphy and students wrote characters over and over even after paper became all black with ink. However, written characters on re-used paper could be easily identified because they shined.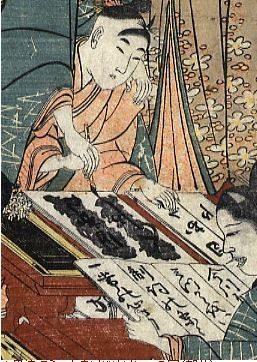 「風流てらこ吉書はじめけいこの図」(部分) 歌川豊国(初代)/画 公文教育研究会蔵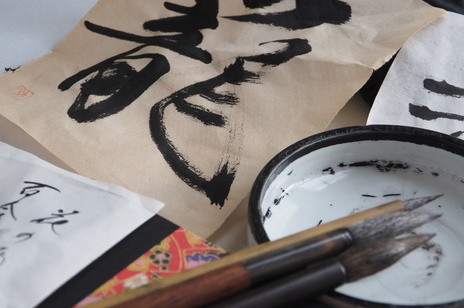 Having great enthusiasm for education, people in those days made the best of limited natural resources including textbooks and plain paper for calligraphy.

「幼童席書会」一勇斎國芳/画 公文教育研究会蔵
【References】
1) "Leaning in Edo Period (illustrated)" by Hiroaki Ichikawa, Hideaki Ishikawa (published by Kawade Shobo Shinsha in 2006)
2) Tokyo Gakugei University Library DAGITAL ARCHIVE:Terakoya and Oraimono 
3) Japan on the Globe – Volunteers contributed to development of Edo period
By Shoko@Japan
Please also read Shoko's other articles.
・Traditional Dietary Habit in Fukuoka
・Over 70% Literacy Rate! -Terakoya mechanism is awesome!! /Japan
・Relay interview of Shoko
Be sure to join moms interviewees.
Your voice will be delivered to moms all over the world.
Click here for interview form