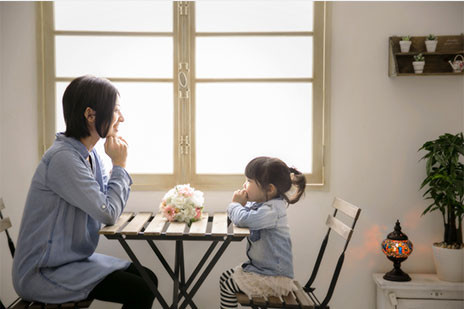 Q1.Where do you live?
Chiba/ Japan
Q2.How old are you?
31 years old.
Q3.How old is/are your kid(s)?
3 years old.
Q4.Please tell us about your family.
There is my husband, my daughter and me.
Q5.Are you currently working?
Yes
Q6.What is your job?
Photographer. Writing articles and ads at home.
Q7.What are your working hours like?
Photographing: during daytime, Working at home : 4:00-7:00 in the morning.
Q8.Does your partner help with child care?
Yes
Q9.How does your partner help with child care?
On weekends when I am tied up with work or tired, he takes our daughter out for a walk.
Q10.Who takes care of your children while you are at work?
Other than when she is taking classes, my parents who live nearby take care of her.
Q11.How do you relax after taking care of the children?
I listen to my favorite music or watch TV after my daughter goes to sleep.
Q12.Do your children take any extra lessons after school?
( e.g. piano lessons, English lessons etc)
Gymnastics and swimming
Q13.What kind of life skills do you think are necesaary for kids to have?
To have self-confidence and to be able to think and move forward for yourself.
Q14.Do you do anything to develop those skills?
I consciously create opportunities for her to think and choose for herself.
Q15.What makes you happy?
When the whole family is laughing together and when I am recognized in my job.
Q16.In ten years, what do you think will be making you happy?
A world where everyone can choose their own lifestyle and ways of enjoying themselves.
Q17.What makes you think "Working and taking care of a child is hard!" ?
Concerning work, when I am working early in the morning and my daughter wakes up often, and I can't concentrate on my work while the deadline is coming up. Concerning childcare, as she has started getting assertive, we sometimes have conflict of opinions.
Q18.Do you have any trouble with your work? If so, please tell us about the details.
I don't know at what level I am in. I would like to improve my skills, but don't have enough time for myself. I make careless mistakes often, and I'd like to be more careful.
Q19.Do you have any trouble with taking care of your children? If so, please tell us about the details.
She is very particular about food so I would like her to start eating more things.
Q20.What is it that you value in child-rearing?
I always keep in mind that we are all individual human beings, and I am conscious of keeping a comfortable environment and relationship for both of us.
Q21.What activities do you want to do with your children?
(e.g. traveling, playing with them etc)
I want to have an photo exhibition together.
Q22.Recently, what has made you the happiest?
I took a photo of my friend's child for her birthday, and she told me how satisfied she was with my work.
Q23.In your life, what do you think will make things easier or better?
I wish there were 48 hours in a day. Then, I would spend 12 hours for myself, and use the rest to play with my child. I also wish there were more options for us to choose from regarding ways of working and living so that more and more people could be more lively and free.