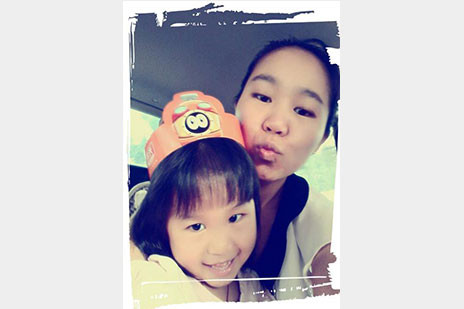 Q1.Where do you live?
Shanghai, China
Q2.How old are you?
29 years old.
Q3.How old is/are your kid(s)?
5 years old.
Q4.Please tell us about your family.
My husband, a daughter, and me.
Q5.Are you currently working?
Yes, I am working
Q6.What is your job?
Office worker
Q7.What are your working hours like?
8:00-17:00
Q8.Does your partner help with child care?
Yes.
Q9.How does your partner help with child care?
By feeding her, changing diapers, bathing her and playing with her.
Q10.Who takes care of your children while you are at work?
My mother- in-law.
Q11.How do you relax after taking care of the children?
By playing with my daughter.
Q12.Do your children take any extra lessons after school?
( e.g. piano lessons, English lessons etc)
None
Q13.What kind of life skills do you think are necesaary for kids to have?
Independent mind, independence, sociability.
Q14.Do you do anything to develop those skills?
No.
Q15.What makes you happy?
I am the happiest when I am with my child.
Q16.In ten years, what do you think will be making you happy?
I will be happy if all the members of the family are healthy and satisfied with their lives.
Q17.What makes you think "Working and taking care of a child is hard!" ?
I don't have anything like that at the moment, but I think I will when my daughter starts going to school. Homework recently seems to be quite difficult. I'm worried that I won't be able to teach her.
Q18.Do you have any trouble with your work? If so, please tell us about the details.
Yes.
Q19.Do you have any trouble with taking care of your children? If so, please tell us about the details.
Yes. My daughter doesn't have enough sociability yet.
Q20.What is it that you value in child-rearing?
Each moment that my child is growing.
Q21.What activities do you want to do with your children?
(e.g. traveling, playing with them etc)
To help my daughter's dreams come true.
Q22.Recently, what has made you the happiest?
None.
Q23.What do you want to have the most now?
(Environmentally, emotionally, etc. all included)
I should have studied harder.