There are specific traditions for babies in each country which common purpose is to wish healthy growth and development of babies!
Taiwan is not an exception but modern-day people are rushed off their feet and quite a few traditional events are not practiced.I would like to introduce universal traditions which are still practiced in Taiwan today.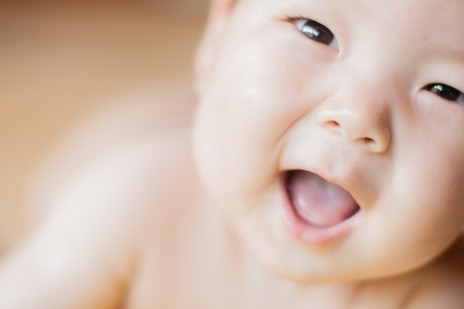 Haircut of newborn babies
There are certain days to have babies' haircut and each of them has different meanings
12th day after birth: All things to go well harmoniously
24th day after birth: Filial Piety
One-month old: Peacefulness
40th day after birth: Intelligent and Virtuous
Many families choose to have baby's haircut on the 24th after babies were born as they wish for babies to grow as dutiful children. Normally, families invite either an experienced hairdresser or a brush maker who creates a brush using fetal hair, at their home or a childbirth center to help haircut of babies.
Items to prepare for baby's haircut are followings
2 chicken eggs: Gallant for baby boy, Beautiful for baby girl
2 duck eggs: Healthy and Strong
1 piece of round rock: Courage and Bravery
6-8 pieces of 50 yuan and 10 yuan coins: Make a fortune, have gold and silver, high social status
A bag of small leeks: Intelligent and Resourceful
A bag of Chinese chive: Longevity
A bag of small celeries: Labor
Round tray: Peaceful
Before having baby's haircut, families take those items one by one on their hands with a prayer for babies and then have babies to have haircut.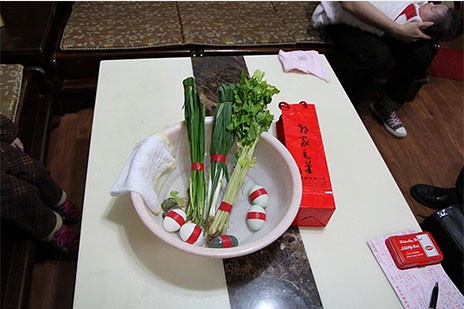 The reason why many families invite a brush maker to help their baby's haircut is that there are parents who would like to make a brush with their baby's hair after first haircut.
This brush is called "Taimoufude" (fetal hair brushes). Some people order a stamp using their baby's umbilical cord and fetal hair if they were kept in good condition. And this is called "Seitaiban" (umbilical cord stamp). It is believed from old days and spread widely until today that an umbilical cord will bring treasure (the pronunciation of "navel" and "bring treasure" in Taiwanese is the same) and babies are the symbol to bring treasure and foods. Therefore many parents take their baby's umbilical cord to a bank to open an account for their babies for the first time in their lives!
One-month old
By tradition, when babies turn one-month old, families to prepare steamed rice, to offer sesame oil chicken to ancestors, to send gift (clothes for both upper and lower body including hat) to baby's mother's home. Today, many traditions are simplified because of increasing number of small families in which a family memorial tablet is not placed in their home. They make reservation/order streamed rice to be sent directly to their friend's and also many people order a cake to be sent to their friends. This is "Mitsuki Cake" (the moon is full).
Shuzen" at Four-month old
Shuzen came from drooling of babies. Families have this interesting event when babies turn four-month old. Families to have this event with blessing from many friends in the hope that their babies to stop drooling when they are cutting their first teeth and babies can grow in peace more than anything.
By tradition, 12 to 24 cookies are tied together by red thread and hang them from baby's neck. Family members and friends make a gesture of wiping baby's drooling on a cookie with a prayer while a mother hold a baby.
But today, things have changed and it is not necessary to use traditional cookies and doughnuts are used instead. Sugar cookies with icing like shown in the picture on the right are popular among many people. There are variety of shapes and they are very cute!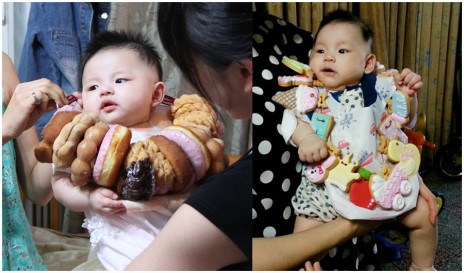 In fact, this event doesn't help babies to stop drooling but everybody thinks that it would rather make baby's mouth water! Babies during this period of time basically drool a lot. It is obvious that this tradition is interesting and fun but most important thing is to pray for babies to grow in peace more than anything!
Fortune-telling ceremony for babies (one-year old)
By tradition, when babies turn one-year old, families to prepare red, turtle shaped steamed bean-jam buns and to offer them to ancestors and to tell ancestors that babies turned one-year old (to pray within themselves) and to pray for babies' healthy growth. As the times change, this ceremony is omitted among many people but there is the interesting fortune-telling play which remains today!
Traditionally, when babies turn one-year old, families to have a fortune-teller to see
personalities and what kind of careers they would possibly to have when they become adults.
Before starting official ceremony, families to have their babies to tramp down red, turtle shaped steamed bean-jam buns. Each foot tramp down on each bun which are the symbol of treasure and longevity.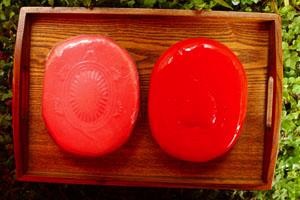 Before starting official ceremony, items such as a book, a stamp, a brush, an abacus, Kingenhou (ship form ancient coins), a chicken leg, peanuts, a ruler, leeks, celeries, a sword, a stethoscope, a microphone are placed in front of babies and have babies to pick one item.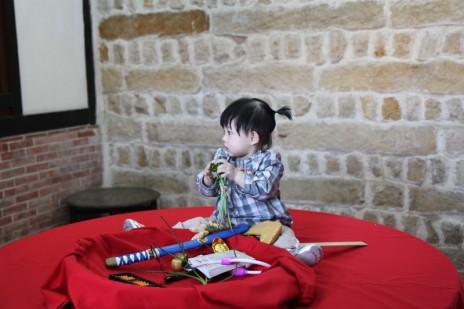 Each item has different meaning and my daughter picked a brush which means "a writer".  A microphone means "a musician, a famous singer", Kingenhou (ship form ancient coins) means "wealthy". Although it has not proven that if babies actually have careers which were told as a result of fortune-telling ceremony after they become adults, it is very interesting event.
Real intention is to pray for babies' healthy growth by using occasion of one-year old celebration!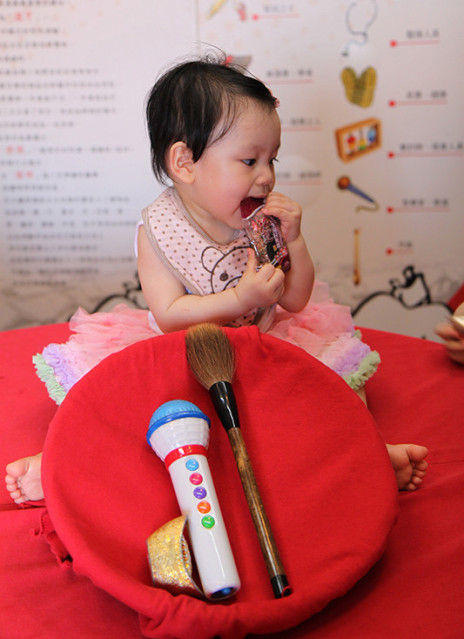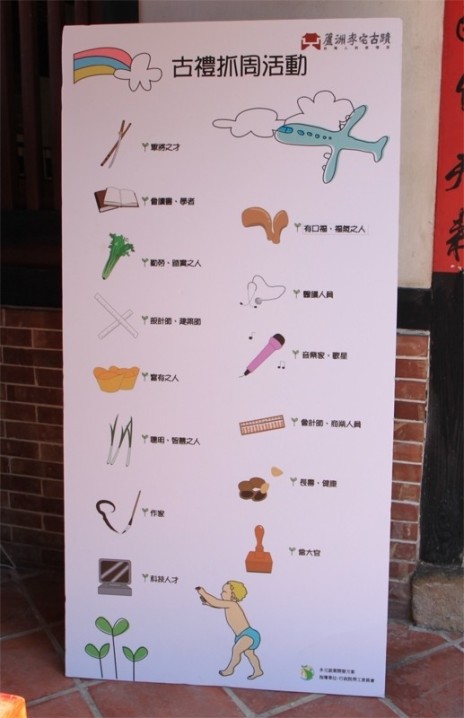 eva@Taiwan
Be sure to join moms interviewees.
Your voice will be delivered to moms all over the world.
Click here for interview form