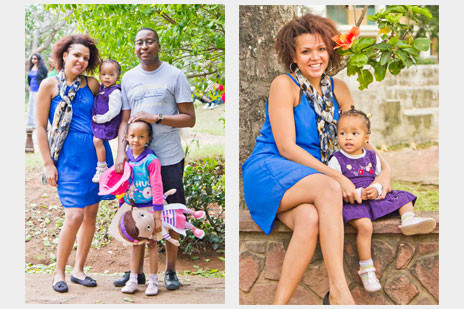 Maputo, Mozambique
Q2.How old are you?
27 years Old
Q3.How old is/are your kid(s)?
Luana-6 Years old,Larissa-2years old
Q4.Please tell us about your family
I have been married for 7 years, my husband is 32 years old, I have two beautiful children, and we live in an apartment in the city of Maputo.
Q5.Are you currently working?
Yes
Q6.What is your job?
Assistant
Q7.At what times do you work?
At 8:30 to 16:30
Q8.Does your partner help with childcare?
Yes he does.
Q9.How does your partner help with childcare?
He takes them to the park, movies and children parties. When there are sick he takes to them to the Hospital.
Q10.Who takes care of your children while you are working?
Baby sitter.
Q11.How do you relax after taking care of the children?
Baking cakes, taking nights off with some friends.
Q12.Do your children take any extra lessons after school? Ex) piano lesson, English lesson, etc)
No, because they stay all day in school, they start at 7:30 AM and finish at 4:00 PM
Q13.What kind of life skills do you think are necessary for kids to have?
Be kind, respect your elders, be patient.
Q14.Do you do anything to develop those skills?
Yes, always teaching them the word of the Lord, give practical examples, I always try to be the mirror setting an example.
Q15.What makes you happy?
When there is health, no one is sick, seeing my daughters to grow up healthy and happy.
Q16.In ten years, what do you think will be making you happy?
See my daughters perform well in school, smart and cheerful.
Q17.When do you think housework and childcare is hard?
When I don't have my husband's support. And during my University period, I had one child but had little time devoted to her.
Q18.Do you have any trouble with your work? If so, please tell us about the details.
Thanks to God I have not had problems at work, my superiors are very good and respect whenever I have to go out of work when I have some emergencies with the children.
Q19.Do you have any trouble with taking care of your children? If so, please tell us about the details.
The only issue, is that at times I arrive very tired from work and fail to devote the attention that the kids expect to have from me.
Q20.What is it that you value in child-rearing?
Being present in all moments of their lives, and knowing that their future is dependent in all that is taught today. We have the power to raise great characters of the future.
Q21.What activities do you want to do with your children? Ex) traveling, playing with them, etc)
Travelling, because it is a moment that we can all be together, we are able to talk, laugh without time constraint.
Q22.Recently, what has made you the happiest?
Being able to celebrate my eldest daughter's 6th birthday and being able organize the event personally. And most importantly see her face filled with happiness.
Q23.Is there anything you wish you should have done?
I should have made greater use of the moments spent with my mother whilst she was still alive, I never thought that she would leave my life so soon in a tragic accident. There is so much that I wish I could have done with her, travel, hug, and more importantly thank her for the way she raised me with great care, and that's why I wish to always spend as much time with my daughters, because the future is unknown.