Since the main topic of this website for the year is "food", today I am writing about Mozambican food.
You may have an image of Africa as "hot", and therefore, of its food as spicy.Actually, there are many countries in Africa that fit that stereotype; Mozambique is unfortunately (?) not one of them since the temperatures here are bearable and the food not particularly spicy.
In talking about food in Mozambique, you cannot ignore a vegetable called "cassava", a kind of potato which is also the main ingredient for tapioca.It is not known in Japan, but here in Mozambique they use both the leaves and the roots.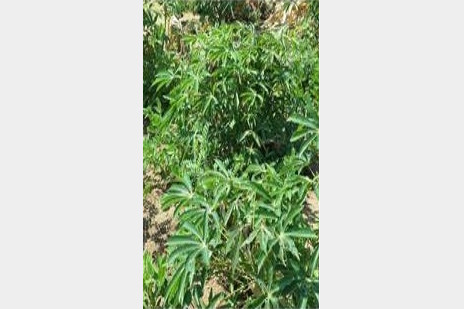 The leaves are made into stew by cooking them together with shrimps, peanut powder and coconut milk. The roots are eaten by steaming them or made into powder to make "xima", a kind of bread they eat as a staple, which is made from cassava powder mixed with water and steamed. Steamed cassava root has a chewy taste and sweetness like yam, and I like to eat it that way the best, but since its skin is said to have poison, you need to peel it, and therefore I have never cooked it myself. It is also known for being easy to cultivate, as it grows just by sticking the stem into the soil. It is an ideal vegetable for dry soil.
We call the stew made of cassava leaves "Matapa".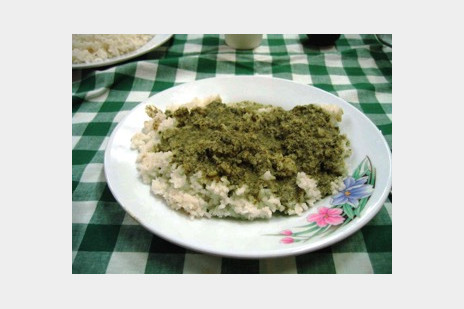 (The picture of Matapa below was taken at a dormitory of a local high school.)
To make it, you grind the leaves into a paste with a mortar and a pounder. The fresh vivid green paste looks quite nutritious. By adding peanut powder, shrimp and coconut milk and eating it with rice would make an ideal dish, with essential vitamins, mineral, iron as well as protein and carbohydrate.When I first saw the dish, my impression was, to be honest, "a strange kind of food from an unknown country". But to my surprise, it tasted very good!
Friends my age say this dish is "a highly nutritious typical dish of Mozambique", but younger people don't seem to like them.I used to ask the young people what they like to eat, and they would say pizza, steak, fried potatoes, spaghetti, hamburger, etc. I realized that kids prefer the same things all around the world. A friend of mine told me that her daughter wouldn't eat what she prepares and cooks her own favorite dishes; fried potatoes and grilled chicken.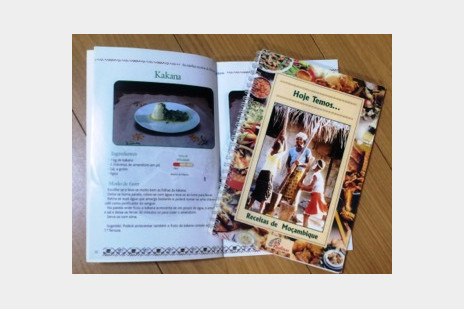 Raised by a mother who was born right after the war, I grew up eating Japanese traditional dishes, such as miso soup, kiriboshi- daikon, hijiki, etc. Although I love potatoes and spaghetti just like everyone else, I still feel I cannot live with only those dishes. I even shipped miso and soy sauce to Mozambique, and couldn't help myself from cooking Japanese food at least once a day.I feel sad knowing that the young generation in this country is also beginning to have less opportunities to eat the traditional "Taste of Mom" dishes.
totuku@Mozambique
Please also read totuku's other articles.
・Raising a child in Mozambique
・Childbirth in Mozambique
・Toys for Children in Mozambique
Be sure to join moms interviewees.
Your voice will be delivered to moms all over the world.
Click here for interview form