Last time, I introduced Origami (
Origami is superb! -Recommendation of parenting by using Origami / Japan
)and "Kendama" is also one of items people have been playing with since many years ago. When you were able to play Kendama the way you wish by using your five senses, you enjoy a feeling of accomplishment and you will be addicted to it and you continuously play with it. This is something you could never experience with TV or games on a smartphone.
Now, let's take a close look at the effectiveness and origin of Kendama!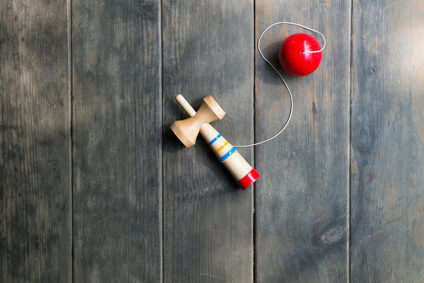 Since Kendama have been introduced on many TV shows lately, it has recently become much more popular among children. My son got a Kendama as a Christmas gift.
He was not able to play with it very well and a wooden ball was out of control…so he learned the proper way of holding a Kendama and leg movement from the preschool teacher who is good at Kendama and he repeatedly practiced it at home. One day, my son was finally able to do the most basic technique "Ozara" which is simply catch a ball on a big dish!! "I did it!" A look of blessed relief came over his face. I cannot forget his exultant look and it was the best gift I have given from my son.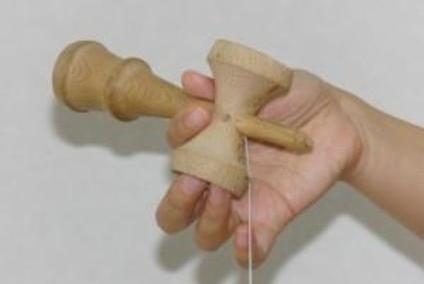 (How to hold a dish:Resource from Japan Kendama Association)
Charms of Kendama – #1 Skill of getting the hang of it by the five senses
It is said that "children learn a great deal by copying what others do" and I really felt it is true through Kendama. Especially during the early childhood, using the five senses is more important than theory of words in understanding the way of doing things.
At first, I looked up how to play Kendama and told my son "why don't you try this way?" However, when hearing words, actions were made by thinking through a brain and my son's movement was awkward.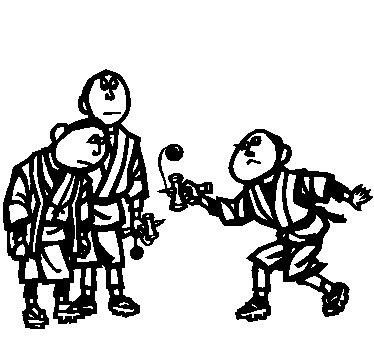 My son started looking appropriate after learning the actual movements from the preschool teacher and he was finally able to do the technique, Ozara. Child as he was, he got "a good feeling" which was different from before. After that he played earnestly and endlessly told me, "Hey Mom, look at me!" Because of this interruption I couldn't focus on housework but nothing can spare the wonderful time with my son.
y the way, after I played Kendama I realized that it is requires not only hands' movement but also the bending and extending of legs. Surprisingly, this movement is as effective as doing squat for strengthening our physique!!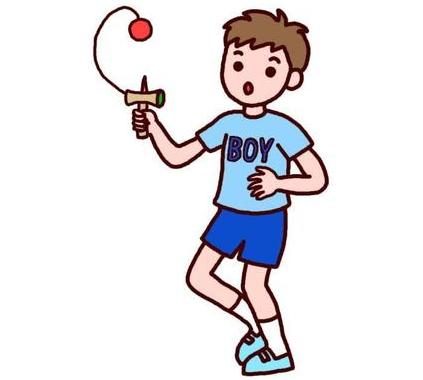 Charms of Kendama – #2 Successful experience
Another charm of Kendama is that it will give you a feeling of accomplishment and you can have accumulating "successful experience" which is same as previously mentioned Origami (Origami is superb! -Recommendation of parenting by using Origami / Japan).
You can quickly retry after you failed and you can continue to play as much as you want to. Koma-mawashi (Japanese art of top spinning), Beigoma (traditional Japanese spinning top toys) and Ayatori (cat's cradle) probably have the same element. They would give a player confidence like "Once I could do it, I am sure I will be able to do it again."
The origin of Kendama
It's embarrassing, but I was thinking that Kendama is a traditional Japanese toy until I write this article. However, I found out that Kendama (stick a ball, an animal-bone or a ring into a spike) was played almost everywhere around the world. For instance, it was called Cup-and-ball in English, Bilboquet in French and in Germany it was called Kugelfang.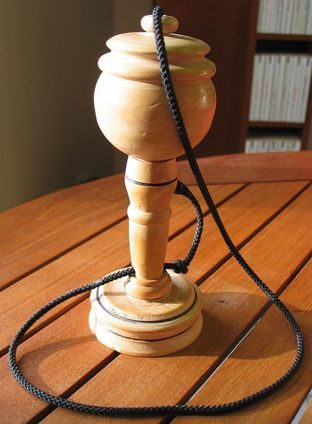 (「Billeboquet」 By Wikiwand )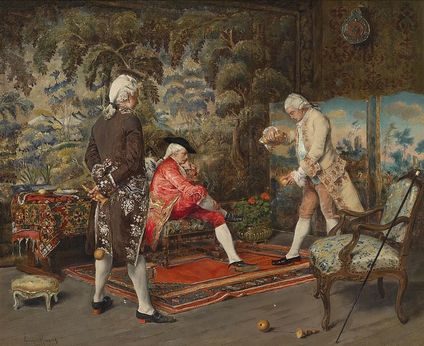 (「Männer beim Bilboquet (Gemälde von Monzies 1880)」 By Wikiwand )
Although the direct origins of Kendama cannot be traced back to one single origin, it is said that it was came from France around the 16th century (the Age of Civil Wars in Japan). There is no existing literature to prove that Kendama came from France but the current ball (Jitsugetsu ball) was formed in the late Taisho Period.
Kendama connects people all over the world
Kendama has been developed in accordance with respective styles all over the world. I feel deeply about the fact that Kendama was formed in Japanese unique size and shape at some point and it became Japanese original play.
Also, Japanese Kendama is recognized not only as a toy but also a competition and there are some foreign professional Kendama players. Since Kendama became well known, they are produced in foreign companies as well. Those reverse-import Kendama are designed into various models and they became much more popular.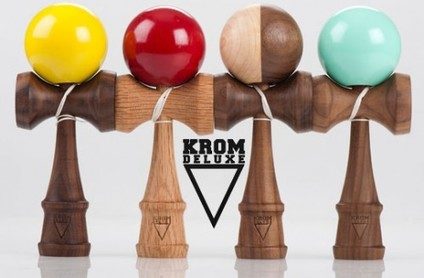 (「デンマークのクロム社のけん玉」By http://www.offitsuku.com/)
On the other hand, Kendama made by artisans in Hatsukaichi city in Hiroshima prefecture (the birthplace of Kendama) still have deep-rooted popularity because each of them has different weight and texture. This is another charm of Kendama that it provided an opportunity to create communities all over the world.
Although both Origami and Kendama are familiar items, it might be one of fun parts of parenting to find the way to interact with children and to discover tips of zest for living for children through playing with Origami and Kendama.
List of references
Japan Kendama Association: http://kendama.or.jp/
GLOKEN Global Kendamas Network: https://www.gloken.net/jp/
Today's health and wellness (published in October 2015)
Kendama study- from the origin to techniques, Kendama of the world by Tamotsu Kubota
saya@Japan
Thank you, saya
Be sure to join moms interviewees.
Your voice will be delivered to moms all over the world.
Click here for interview form