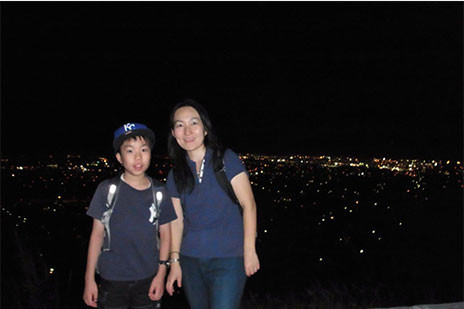 (Nationality:Japan)
Q1.Where do you live?
I live in Berlin, Germany.
Q2.How old are you?
I'm 50 years old.
Q3.How old is/are your kid(s)?
My son is 14 years old.
Q4.Please tell us about your family.
My husband, son and me.
Q5.Are you currently working?
Yes, I'm working.
Q6.What is your job?
I founded "The Child education Symphony Salon".
I also do some art work in the Japanese art of flower arrangement and calligraphy.
Q7.What are your working hours like?
I work from 8am~12pm and 15pm~18pm.
Q8.Does your partner help with childcare?
Yes, he does.
Q9.How does your partner help with childcare?
When my son was young, my husband took care of everything I couldn't handle.
Q10.Who takes care of your children while you are at work?
When my son was young, I concentrated on raising him.
Q11.How do you relax after taking care of the children?
I sleep and also listen to music.
Q12.Do your children take any extra lessons after school? ( e.g. piano lessons, English lessons etc)
He took many extra lessons, such as swimming lessons,
gymnastics lessons, piano lessons, baseball, soccer and abacus, until the age of 10.
Q13.What kind of life skills do you think are necesaary for kids to have?
I think the following abilities are necessary for kids to have:
The ability to think and decide of themselves, the ability of self- affirmation,
Q14.Do you do anything to develop those skills?
I let my son concentrate on what he wants to do.
I also teach and show him different things from the real world.
I also encourage him.
Q15.What makes you happy?
I feel happy when I can have a normal life.
Q16.In ten years, what do you think will be making you happy?
I would feel happy if there was no air pollution, no war,
no competitive society, no exam wars and we could have peace, safety of food,
balance of nature and coexistence between human and animals.
Q17.What makes you think "Working and taking care of a child is hard!" ?
Japanese think more of the public image rather than the individual not like western people, so we try to have good relationships with mothers such as the community at kindergarden and at parks.
Q18.Do you have any trouble with your work? If so, please tell us about the details.
It is not a trouble , but I have my own business, so I think about how to aim new customers.
Q19.Do you have any trouble with taking care of your children? If so, please tell us about the details.
My son is a teenager so I think of how to deal with an adolescent boy.
Q20.What is it that you value in child-rearing?
I speak my mind with my son, I am always on his side,
I try to keep his mental balance and be positive.
Q21.What activities do you want to do with your children?
(e.g. traveling, playing with them etc)
I want to take a trip across Canada.
Q22.Recently, what has made you the happiest?
When I know my son enjoys his school life.
Q23.What do you want to have the most now?
(Environmentally, emotionally,etc. all included)

I wish he didn't have to deal with exam wars where attention is paid to who comes first and could immerse himself in what he likes.
A world where we all respect each other and can coexist with nature and wildlife.
A world free of chemicals. A world not centered around money.
Thank you, iolley!
Be sure to join moms interviewees.
Your voice will be delivered to moms all over the world.
Click here for interview form
 
HOME