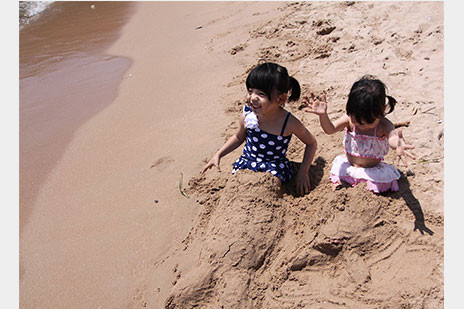 Q1.Where do you live?
Taipei/ Taiwan
Q2.How old are you?
36 years old
Q3.How old is/are your kid(s)?
5 and 3 years old.
Q4.Please tell us about your family.
My husband, 2 daughters and me.
Q5.Are you currently working?
Yes
Q6.What is your job?
Making children's dresses, buyer of Japanese products.
Q7. What are your working hours like?
Usually, at night after kids go to bed.
Q8.Does your partner help with childcare?
Yes!
Q9.How does your partner help with childcare?
There isn't much opportunity, since I myself don't feel relaxed about having others look after the kids, but when I need to go shopping alone, he looks after the kids for me.
Q10.Who takes care of your children while you are at work?
There is no one to look after them so I try to work only after they go to bed.
Q11.How do you relax after taking care of the children?
Listening to music at midnight or watching movies. I sometimes take half a day off to go to beauty salons, when I feel the necessity.
Q12.Do your children take any extra lessons after school? ( e.g. piano lessons, English lessons etc)
My older daughter takes dance lessons once a week at the kindergarten
Q13.What kind of life skills do you think are necessary for kids to have?
Creativity, comunication skills, international mind.
Q14.Do you do anything to develop those skills?
1. Since they are still small, I am observing their likes and characteristics.
They like to draw pictures or make things. Whenever we find something they like or are good at (ex. Dancing), we try to let them express their imagination as freely as possible and look for classes they can take related to that field.
2. They go to a bilingual kindergarten in order to learn 2 languages. They spend at least half the day in an English-speaking environment.
Q15.What makes you happy?
I feel really happy when I see my husband playing and laughing with the kids!
Q16.In ten years, what do you think will be making you happy?
A world where the countries' societies and economies are stable.
Q17. What makes you think ""Working and taking care of a child is hard!"" ?
The endless housework is really a burden. I sometimes wish I could ask someone to do all of it for me.
Q18.Do you have any trouble with your work? If so, please tell us about the details.
I don't have enough time.
Q19.Do you have any trouble with taking care of your children? If so, please tell us about the details.
Yes. Education is not something you can go back and fix. Sometimes I don't know whether the methods used are correct, which makes me uncomfortable.
Q20.What is it that you value in child-rearing?
I think the most important thing is for me to realize and observe the small improvements of my children.
Q21.What activities do you want to do with your children? (e.g. traveling, playing with them etc)
I want to go to many countries with them.
Q22.Recently, what has made you the happiest?
I was happy when my family supported me on spending my time on hobbies, outside my time spending with the kids.
Q23.Is there anything you wish you should have done?
I have been so busy that I have no time to take a break. I have many things I want to do, but that always makes me even busier.
I feel the need to balance my time between my work, housework and childcare. As a result, childcare is the most important thing for me.
So I would like to keep the balance by reducing work.