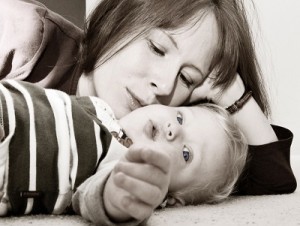 After I had a baby, I realized my thinking pattern is greatly affected by how I'd thought in different situations and how I'd lived.
It's only natural, of course...
That is, how adults deal with kids changes kids' way of thinking.
if we adults keep saying "you have to do ~", they come to think "I don't really want to do this but I guess I have to"
Children are perceptive.
They are sensitive to mum's and dad's mood.
Even 3 or 4-year-old kids try to do what they don't really want to do if it makes people around them happy.
However, repeating it again and again makes kids unable to understand what they really want to do and how they feel.
Also, we become unable to understand kids' true feelings.
We likely to think it's hard to bring up babies who frequently cry,but actually it's great that they can express their feelings.
Now, the problem is only how to accept it and how to approach for it.
If kids can't express their feelings well and stay inside their shells,it becomes hard for them to do anything.
It's wasting their lives.
There're a lot of things that "we have to do" even though we don't want to .
Take schoolwork for example. "I don't really want to do this but I guess I have to".
Well, if kids don't want to do, let them say No! to express their feelings.
I think it's an important first step.
Expressing themselves makes them aware of their own feelings.
Then, we accept their feelings and admit it and help them open up their mind.
" So, you don't want to do it. I can understand. I felt the same way when I was young."
After that, little by little tell them how it's fun if you get over it.
Don't be in hurry.
Keep trying to open up their mind and be conscious of their growth,then you'll find a way out.
And at some point, I believe they will switch from "have to do…" to "want to do!"
For that, it might be good for us adults to release ourselves from the "have to do" spell and not angrily ask "Why?!" when kids say "No!"
Sachiko@japan